Ada Ameh sadly revealed a few days that she has lost her only daughter Aladi Godsgift Ameh to the cold hands of death.
read also: Why Davido Has Failed to Marry Chioma Despite All The Public Showmanship
Moments before she buried her, she took to social media to write; 'Join me as I finally lay my daughter to rest .. just keep praising Him cos olowo gbogboro is turning things around for my Good…its well with my soul.'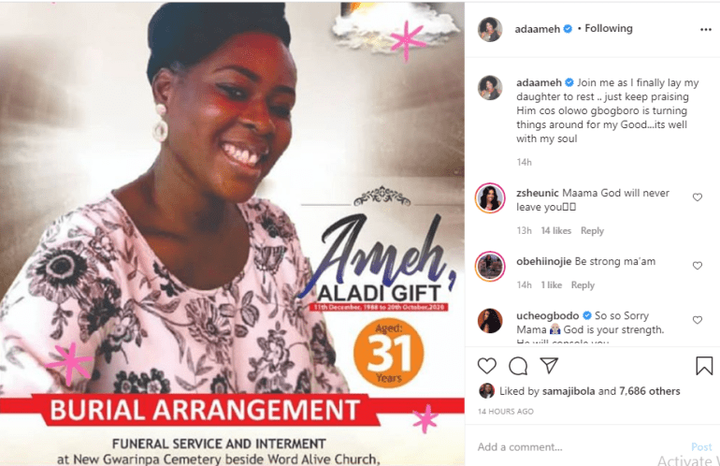 These are three things about the sad demise of Aladi Godsgift Ameh which has broken hearts of fans of the Nollywood star.
1. Aladi Godsgift Ameh is the only daughter of Ada Ameh which is very heartbreaking, to say the least. You can imagine the trauma she's going through right now.
2. Ada Ameh tearfully asked President Buhari and Sanwo-Olu to please allow her to bury her only daughter. Apparently, in the midst of the chaos ongoing in Nigeria, a funeral at this time won't be feasible which is why she made the appeal.
read also: Lydia Forson Finally Breaks Silence On Sleeping With Desmond Elliot
3. Ada Ameh gave birth to her late daughter when she was a teenager. As a matter of fact, she was so young when she got pregnant. We guess the situation robbed her of a lot of opportunities at that time yet she proudly spoke highly of her daughter recently and said she never regretted having her as a teenager.
SOURCE: www.Ghgossip.com
a