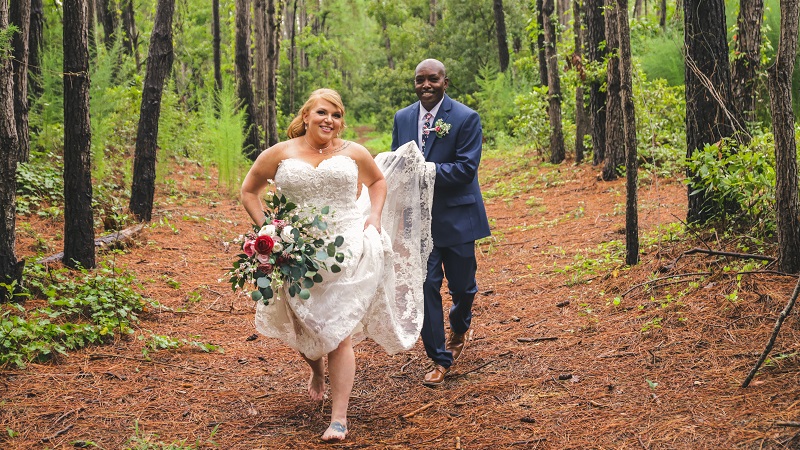 Marriage after 50 can be just as exciting as earlier in life. Whether it's your first, second, or third, weddings "over the hill" are often more easygoing. There are fewer family or societal expectations to live up to and it is often less stressful on the wallet than in your 20's. But weddings later in life have different considerations. Here are some things to keep in mind…
1

. 

 

Consider having your venue in or near a city
Barn weddings are a huge trend right now, and for good reason- they're beautiful! But you should anticipate that your younger guests will want to party into the early morning hours, probably much past your quitting time. If you plan your wedding at a venue near a bar scene and even suggest an after-party for them, it'll show them your genuine appreciation and be a day they never forget.
2

.

  

Break in those shoes before the big day
Mature feet often can't take the beating that they used to. Even if you choose to forgo stilettos for a more comfortable option, flats can often be just as or even MORE painful than heels. Try to break in your shoes while doing routine tasks around the house to detect any problem points and figure out if you want to add something like orthopedic insoles for a little more spring in your step.
3

. 

 

Tell your guests to put away their phones during the ceremony
You probably didn't see many smartphones in your wedding-going heyday, so this may not have been something you considered. Many couples are starting to ask their guests to put away their phones during the ceremony because they often interfere with that beautiful photo of you walking down the aisle. No one wants to look at a sea of phones in front of their loved one's faces anyway. Ask your guests to put away (and silence!) their phones for that moment you'll want to remember forever. You won't regret it, and most guests have no problem abiding.
4

.

Think long-term about your appearance
There are different beauty and prep considerations to account for later in life, most of which are just age-related insecurities. For example, many 50+ brides may start growing out their hair a little for a more youthful look or grooms may want to consider taking finasteride pills to help with hair loss or thinning.
You may even want to change up your skincare or exercise routine. Skin gets drier as you age and a good moisturizer works better with consistent and regular use. Many women also find enjoyment in a yoga or pilates practice for both better posture and toned arms on the big day. All of these changes are best when approached long term.
5

. Enjoy the moment
Weddings for couples later in life are generally more laid-back. This may not be your first rodeo! It might not be your first wedding, but it's sure to be your last. So savor every moment with your loved ones. People are busier and spread out across the country than they were in years past, and it's not often you have them all in one place. Invest in a maid of honor or family member to take care of anything that may pop up, have them hold your phone, and make memories you'll cherish forever!
a