The total sugar content found in food/fruits is usually calculated through chemical/nutrition analysis. Fruits consumption provides us with so much nutrients such as free-radical-fighting antioxidants, vitamins, minerals, phytochemicals, water and fibre plus it's sweetness. All these total packages is what makes eating fruit so good for you.
Countless studies have found that increased fruit consumption, regardless of the fruit's total sugar content, is tied to lower body weight and a lower risk of obesity-associated diseases. When you eat whole fruits, you're also getting plenty of fiber and this fiber helps you feel full while slowing the digestion of the fruit's sugar (which keeps your blood sugar from rising).
However, "too much of everything is not a good thing." Refined sugar (like the one used for ice creams or cakes) is not the sugar in fruit, but experts suggest you still have to be mindful of how much fruit we're eating because it also contains sugar.
Therefore you must eat these following exceptionally sweet popular Nigeria fruits in smaller portions and try as much as possible to pair them with extra fiber (oats), healthy fats, or protein such as a scoop of plant-based protein powder or Greek yogurt to slow digestion and blunt the sugar spiking effect.
Ranked from High to Low Grams of Total Sugar per Cup of Raw, Fresh Fruit
1. Mango
Size: 1 cup, pieces
Total Sugar: 22.5 grams
Fibre content: 2.6 grams
Nutritive Function:  Mangoes are packed with eye-protecting vitamin A, heart-strengthening B6, and immunity-boosting C. It also contains antioxidants: quercetin, isoquercitrin, astragalin, fisetin, gallic acid and methyl gallate—protect the body against colon, breast, leukemia and prostate cancers.
2. Tangerines
Size: 1 cup, slices
Fibre: 3.5 grams
Total sugar: 20.6 grams
Nutritive Function:  Tangerines are valuable sources of flavonoid anti-oxidants: naringenin, naringin, hesperetin, vitamin A, carotenes, xanthins and luteins; higher than that of oranges. Plays vital role in collagen synthesis, wound healing, anti-viral, anti-cancer activity, and help prevent from neuro-degenerative diseases, arthritis, and cold/fever etc, by removing oxidant-free radicals from the body.
3. Banana
Size: 1 cup, sliced
Total Sugar: 18.3 grams
Fibre: 3.9 grams
Nutritive Function: Banana can help you sleep, build lean muscle, and burn fat. Contain Vitamin C, B6, Manganes, potassium, fibre, copper and boitin. See how Banana Peels Will Help You Loose That Weight
4. Pineapple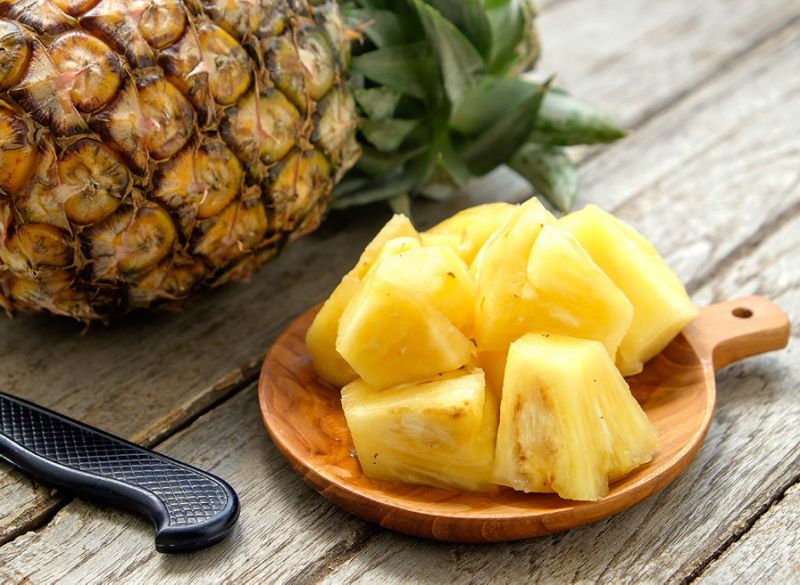 Size: 1 cup, chunks
Total Sugar: 16.3 grams
Fibre: 2.3 grams
Nutritive Function:
Pineapple supplies you with quick energy because it is one of nature's best sources of manganese, a trace mineral that is essential for energy production. A bowl provides 76% of your daily recommended intake, making pineapple nature's answer to energy drinks. Contains vitamin C, B1 & B6, folate, manganese, copper and pantothenic acid.
5. Grapefruit
Size: 1 cup, sections
Total Sugar: 15.9grams
Fibre: 3.7grams
Nutritive function: A good . of Vitamin C & B1, flavonoid antioxidants such as naringenin, and naringin. According to a study in the journal Metabolism, eating half a grapefruit before meals helped reduce belly fat and lower cholesterol levels.
6. Orange
Size: 1 cup, sections
Total Sugar: 14.0grams
Fibre: 3.6grams
Nutritive function: A single orange supplies 116% of your Daily Value (DV) for vitamin C. Oranges are a great . of selenium, a trace element whose antioxidant power maintains thyroid function, fights fatigue and boosts metabolism.
See Also: 14 Easy Homemade Remedies For Skin Whitening
7. Apple
Size: 1 cup, chopped
Total Sugar: 13 grams
Fibre: 3 grams
Nutritive function: Contains Vitamin B-complex: B1, B2, B6 – which help as co-factors for enzymes in metabolism. Apple also has small amount of minerals like potassium, phosphorus, and calcium.
8. Papaya a.k.a Pawpaw
Size: 1 cup, diced
Total Sugar: 11 grams
Fibre: 3.9 grams
Nutritive function: Rich sources of antioxidant nutrients such as carotenes, vitamin C and flavonoids; the B vitamins, folate and pantothenic acid; and the minerals, potassium, copper, and magnesium. It provides protection against colon cancer.
See Also: Countries With The Healthiest Diet, Nigerian (WA) Ranks Highest
9. WaterMelon
Size: 1 cup, diced
Total Sugar: 9.4 grams
Fibre: 0.6 grams
Nutritive function: Watermelon contains vitamin A, B1 & B6, C, potassium, magnesium, copper, pantothenic acid and biotin. It has a very small impact on your blood sugar levels because it is low in total carbohydrates.