Bella Hadid's Dress Was Instantly Spray-Painted at the Coperni's Paris Fashion Week Show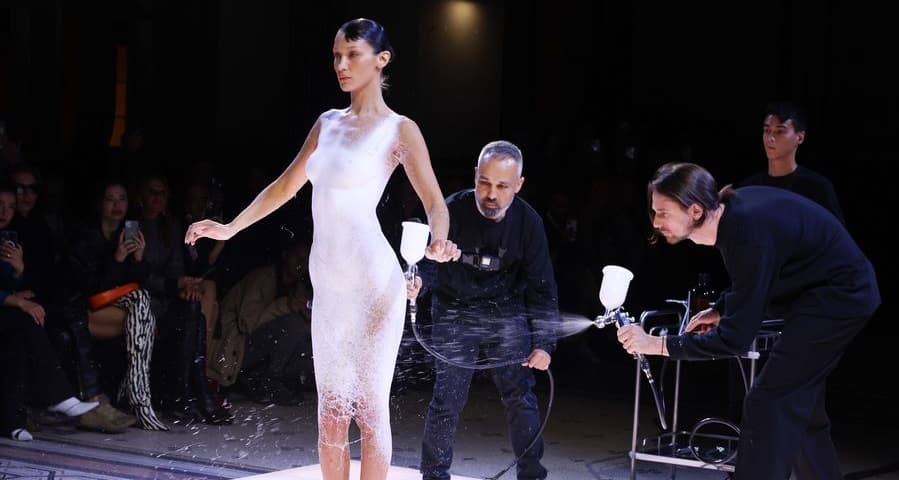 Coperni's Paris fashion week show may be one of the futuristic and artistic shows to come from the Spring 2023 fashion affair. 
On Friday, the French womenswear label presented its spring/summer 2023 collection held in the Salle des Textiles at the Musée des Arts et Métiers in Paris, where models stomped the catwalk in vibrant and sexy pieces. But it took a different dimension when Bella Hadid closed the show in a dress that was spray-painted on the supermodel in front of the astonishingly beaming audience. 
Hadid made her way onto the runway in just a pair of underwear, while using one of her arms to cover her chest. However, two men were photographed spray-painting a full white dress on the model using a material called Fabrican, after which another man used a pair of scissors to sculpt what turned out to be a beautiful creation.
Immediately after they were done, the supermodel majestically strutted the catwalk to showcase the beautiful off-the-shoulder number, which also boasts a form-fitting silhouette and leg slit. 
The show was dedicated to "women of this world" with a reference to a woman's body. "To you, women who transcend your body and never lower your gaze before the barbed wire of morality," wrote designers Sébastien Meyer and Arnaud Vaillan in the show note.