DRAMA: 'Obey Who' – White Lady Disagrees To Wedding Vow During Wedding To Nigerian Husband | VIDEO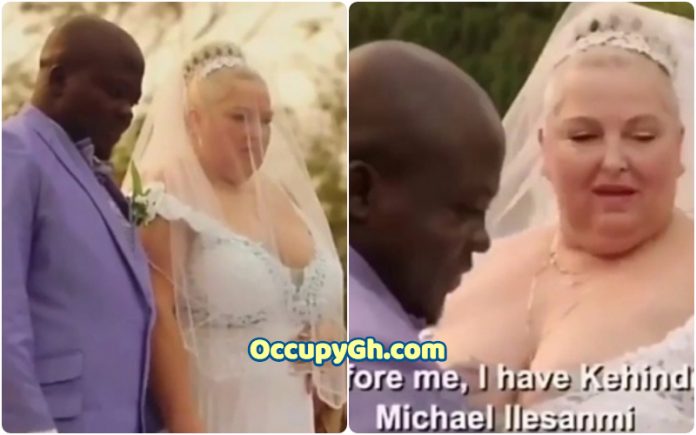 DRAMA: 'Obey Who' – White Lady Disagrees To Wedding Vow During Wedding To Nigerian Husband | VIDEO
A viral video sighted by Lifestyle.ng shows the moment a white lady, Angela K Deem, refused to vow "to obey" her Nigerian husband-to-be, during their wedding in Nigeria.
Angela K. Deem of 90 Day Fiancé, a Caucasian woman whose rocky relationship with Nigerian man, Michael Ilesanmi, has been publicized on the reality show 90 Day Fiancé, was emotional when Michael said his vows to her at the Minister's instruction.
In the video now trending on social media, the white lady could be seen wiping away her tears as Michael vowed never to place any other woman above her.
However, when it got to her turn, she wasn't comfortable with making certain wedding vows.
"Obey what, and obey who?", Angela asked as the Officiating Minister read out the vows and asked her to repeat after him that she will "love and obey" Michael during their marriage.
Michael tried to make her understand the vow but when he heard "obey what and obey who?", the literary bowed his head in shame.
After a moment of suspense and tension, Angela suddenly laughed hysterically and repeated the part that says "to love and", but swallowed the part that says "…and obey my husband", while the officiating minister continued with the wedding vows.
Reactions on social media suggest the man could have married her for materialistic purposes. Some comments emphasized it could be for the acquisition of "green card".
Joy Amoke while commenting on a popular Facebook group wrote… "How can she vow to love and obey a man she obviously feeds, clothes, and houses?"
Check out the video below or visit Lifestyle.ng for more videos & Kindly Subscribe to our Youtube Channel to see more viral, educative & exclusive videos.