[sm-youtube-subscribe]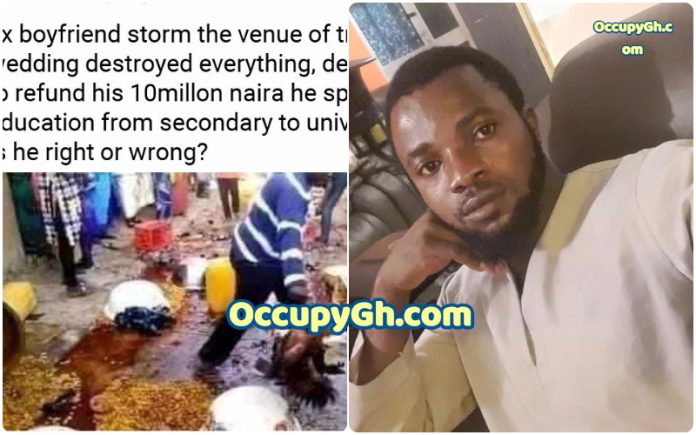 Ex-Boyfriend Storms Bride's Tradition Wedding To Destroy Everything; Demands Refund Of $26,315 He Spent On Her Education | PHOTOS
Social Media has gone berserk over a bizarre story that has just surfaced online social media.
According to the details of the story that was shared by a netizen, an ex-boyfriend of a young lady in Nigeria has stormed the venue of her traditional wedding to destroy everything.
. sighted by Lifestyle.ng explains further that the ex-boyfriend did not only destroy the wedding but demanded her to refund an amount of $26,315 (GH¢ 153,606) he allegedly spent on his education.
. which was shared with a photo of the jilted ex was captioned:
"Ex-boyfriend storm the venue of a traditional wedding, destroyed everything… demand her to refund his 10 million Naira he spent on her education from secondary to university level, Is he right or wrong?"
Check out a screenshot of . below or visit Lifestyle.ng for more stories.
Source: Lifestyle.ng
Related
a