Fashion》Kylie Jenner Brings Out Her Hotness in a Bondage-Inspired Dress in Paris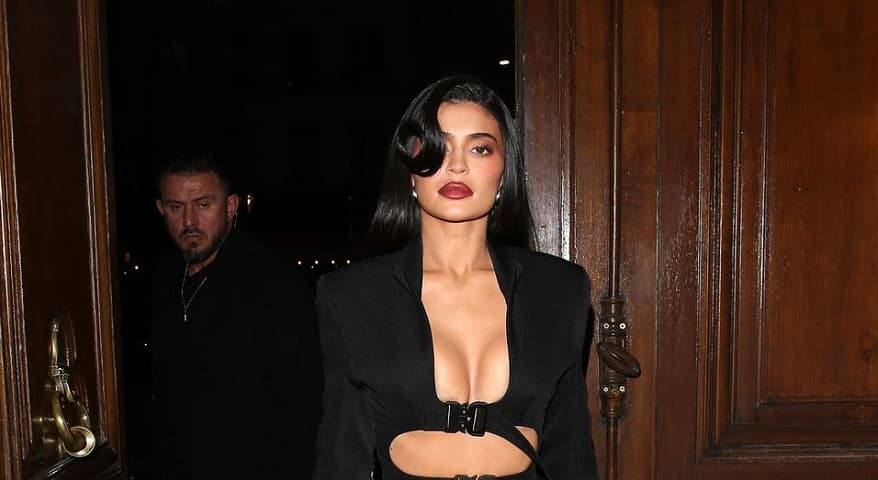 Couture Fashion Week is back and this time, round we're looking ahead to all the super swanky designs destined for the red carpet.
Kylie Jenner has had busy schedules with the fashion week in Paris and attending the Schiaparelli show in a lion head outfit, but this is by far one of her most A-list events to date. Whilst living her best life in the French capital, Jenner who was captured by a paparazzi made another statement in a bondage-inspired dress.  
Looking like a bombshell (as usual), the glamorous little black dress is designed with long sleeves and a pencil skirt with a high-leg slit. We love the cutout and belted torso area which allowed the 25-year-old mother-of-two to channel her inner glam. 
She completed the look with matching heeled leather boots, a small handbag, and sheer black gloves. Kylie's hair was styled in a sleek, straight long hairstyle and she sported an elevated makeup look.
The Keeping Up With the Kardashians starlet has been busy in the City of Light and has made quite some headlines lately with her head-turning Schiaparelli look, which was created entirely by hand from foam resin, silk faux fur, and other man-made materials to celebrate "the glory of the natural world."
kylie is unintentionally funny pic.twitter.com/BPsx8k9C5z

— (@novabarbiie) January 24, 2023
The look further sparked criticism online as many said it was instilling fear because not only was Jenner sporting the look but a slew of models including Naomi Campbell stomped the runway in other animalistic ensembles. Daniel Roseberry, the creative director wrote in his show notes that the collection is inspired by Dante's "Inferno" and the nine circles of hell — a metaphor for the doubt and creative torment all artists experience.
As for Roseberry, the collection sent the right message because "It is a reminder there is no such thing as heaven without hell; there is no joy without sorrow; there is no ecstasy of creation without the torture of doubt." The haute couture house also assured fans that no animals were harmed in other to create the collection.
"Nothing is as it appears to be in Schiaparellis Inferno Couture… NO ANIMALS WERE HARMED IN MAKING THIS LOOK," the brand captioned the look on Instagram.