Gucci Gives A New Meaning To Twinning At Milan Fashion Week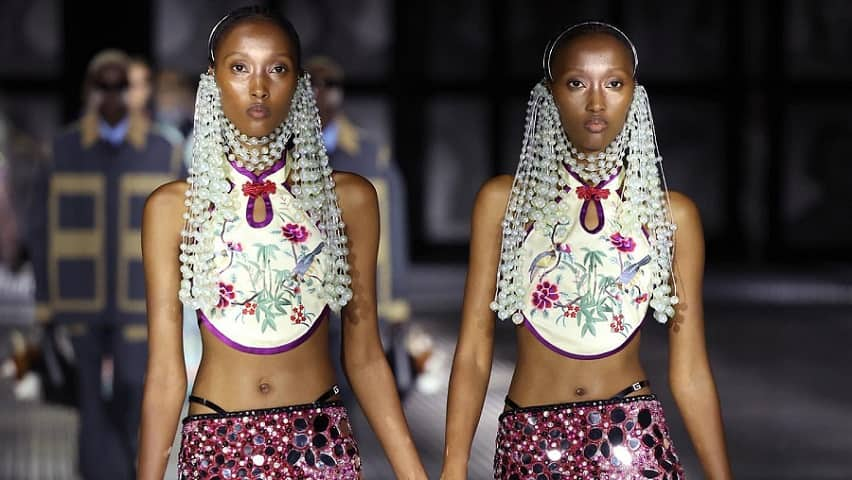 Fashion has always been a tool for communication, representation, and connection, just to say the least. And more than ever before, Gucci is shining its light on identical fashion — that perhaps, Serena Williams can go ahead and bond with the little Alexis in a matching pink dress or Carbi B can continue to pose on Instagram with her adorable toddler in matching outfits. 
On Friday (September 23), Gucci creative director, Alessandro Michele, sent 68 sets of twins down the runway in a show titled "Twinsburg." Inspired by his mother who is also a twin, models were strutting in pairs — all identical — in the same clothes, and in the show notes, Michele aptly dedicated the collection to his mum and her sister. "To my twin mums, that were able to comprehend life only through the presence of the other."
But admittedly, the creative director, however, projected a contrasting view of twinning and this was clearly delivered through an eerie background track chanting "I am not a clone, I am not a copy — I am different," which in summary connotes individuality.
Individuality, in the sense that no two people can be perfectly identical or everyone is different whether you dress the same or not. "The same clothes emanate different qualities on seemingly identical bodies. Fashion, after all, lives on serial multiplications that don't hamper the most genuine expression of every possible individuality."
But nevertheless, it's still an imaginary how the Italian fashion designer cast all the identical models but albeit, his message is clear.