Ini Edo's 39th Birthday Celebration Includes Slit Skirt, Crop Top, and Pink Hair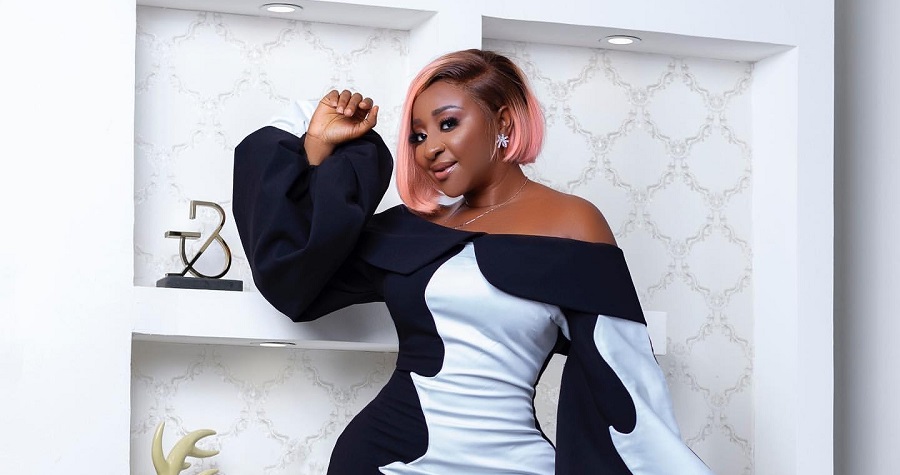 She celebrated her 39th birthday over the weekend on April 23rd. 
And Ini Edo made the festivities for the fashion, slipping into a slit skirt and crop top for an indoor soiree with friends in Lagos on Friday night.
The Nollywood actress was in high spirits when she graced the event in a 2-piece burnt orange resort wear, and could barely contain her excitement when she shared a few snapshots from the birthday bash, and we've got to say she looks glamorous. 
The see-through plunging V-neck on the crop top and the leg-baring skirt made this a really show-stopping number that ensured all eyes were on the actress. For one who couldn't sacrifice comfort, Ini Edo teamed the look with a pair of black slides and gave her bob hairstyle a fresh makeover with a deep side part in black and pink colorways.
Adding to the look was subtle makeup and star-shaped earrings, the budding beauty mogul made sure she was the center of attention.
"
Sometimes ,we wake up not quite feeling quite like we have gotten to where we should be….but in all your uncertainties …count your blessings, name them one by one, and it will surprise you what the Lord has done.#gratefulheart…," she wrote while sharing the pictures. "Thank you everyone who came out to make me feel good and remind me of God's unconditional love for me..for all your prayers and well wishes on my birthday….God bless you and send you a shoulder when ever you need one.You guys are the real MVPs…I LOVE YOU SO VERY MUCH AND THANK YOU🙏."
Next up includes a series of videos from the party which the attendance of the likes of Rita Dominic, Uche Jombo, and a bunch of other friends in the industry.
Happy Birthday!
Latest Aso Ebi Styles 2020 For African Queen : #AsoEbi Mabo Vol27
Latest Aso Ebi Styles 2020 For African Queen : #AsoEbi Mabo Vol27Latest Ankara Styles 2020 and Information Guide
Nigeria Aso-ebi Styles You Would Love To Rock
Nigeria Aso-ebi Styles You Would Love To RockLatest Ankara Styles 2020 and Information Guide