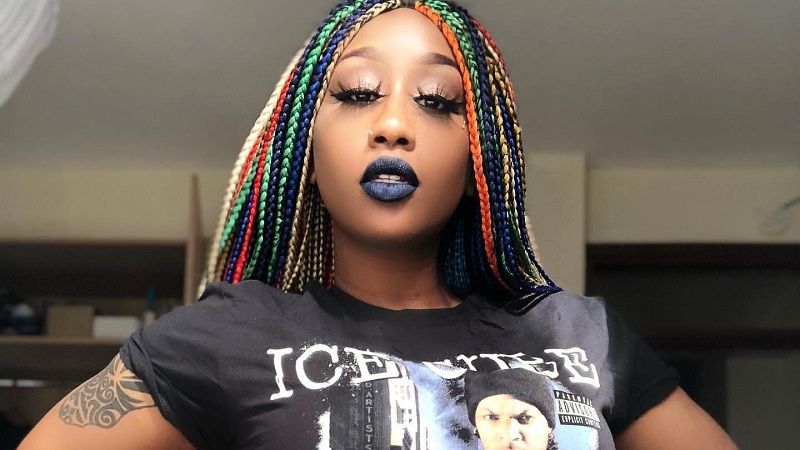 Just in case you haven't heard of Victoria Kimani, she's undeniably the biggest female music star in Kenya and East Africa as a whole. Kimani's work is known across the world and while she's dubbed at the Grammys as 'Kenya's best-kept secret' when it comes to Afropop music, the 35-year-old is a complete hair color chameleon in our eyes. She's proven to the world that she can pull off just about any colorful braids — no matter how quirky or off-beat it might be.
But the singer's experimental attitude toward beauty isn't just for show. Each of her looks — from jumbo to micro braids, short and long bob cut to even Bantu knots all have an incredibly different story. Either she's advertising her luxury braids line: Kimani Luxury Braids or sending love to fans in a special way. Just like when she wore multicolored braids to hi say to over 730k of her Instagram followers. The Kenyan glamazon looked just like a true Afropop queen in her braids hairstyle when she posted a photo to send greetings to fans, along with a rainbow emoji. "Sending Love 🌈 New colors," Kimani captioned ..
However, while Kimani's looks are always on par with the lifestyle of people in entertainment, especially music — think Yemi Alade, Lady Gaga, Billie Eilish, or DJ Cuppy, she makes it seem like it's easy to wear any hair color. So for a prove and inspiration (if you care), let us direct you to this braids hair color junkie that's keeping her life colorful.
1. 
Kimani wears red ombre knee-length braids during Valentine's Day in February.
2.
Still in the ombre beauty game but with an infusion of beads.
3. 
A mix of white and black braids.
4.
A technicolor ponytail with bangs.
5.
Noen braids and red outfit? Who wears color better than Kimani?
6.

 
Kimani serving Bantu knots in color. 
7.
Two months ago, Kimani wished her fans Happy New Month in neon and black long bob.
8. 
She had an interview with Flaunt Magazine in this unconventional ombre braids.
9.
Yes, she can even rock blue braids with matching eyeliner.
10.

 
We are loving these brown ombre braids. 
11.
And while teasing her birthday last month, the singer went bolder and louder in this eye-catching ponytail.
12.
And yes, she wears a short bob too but in green.
a