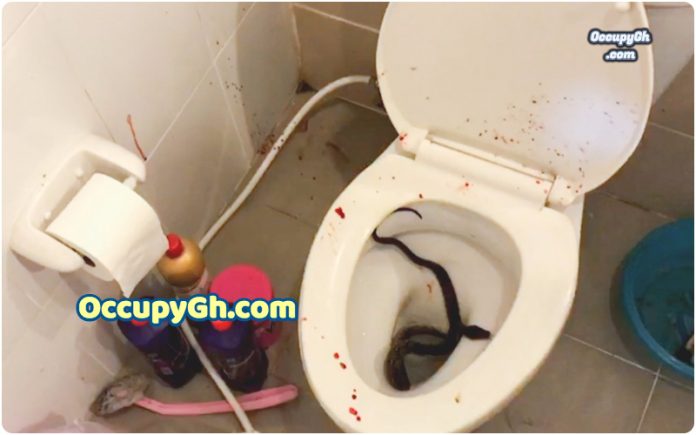 Snake Bites 18-Year-Old Boy's Manhood, Hospitalized
An 18-year-old boy has been rushed to the hospital after a snake bit his manhood according to details gathered by Lifestyle.ng
The 18-year-old boy who lives in Thailand was reportedly cooling down in a water closet when the unfortunate incident happened.
Speaking to the press about his horror encounter Siraphop Masukarat said; "I looked down and saw a snake was hanging in the toilet,"
The 4-foot python had allegedly infiltrated the plumbing and unknowingly the boy sat on the WC to ease himself.
Whiles in the act, he suddenly felt a searing pain in his nether region. He looked down only to discover a snake with its jaws clamped around the tip of his pɛnis.
Siraphop Masukara stood up with the snake still attached and slammed the door on the python causing it to release its grip.
He rushed out of the now blood-spattered bathroom with his pants around his ankles, whereupon the reptile slinked back into the toilet bowl.
The mother of the boy hold the believe the serpent wasn't poisonous as "the doctor said the pɛnis can be used as a normal soon."
a