US Presidential Candidate Joe Biden Kneels Before Don Little In Viral Photo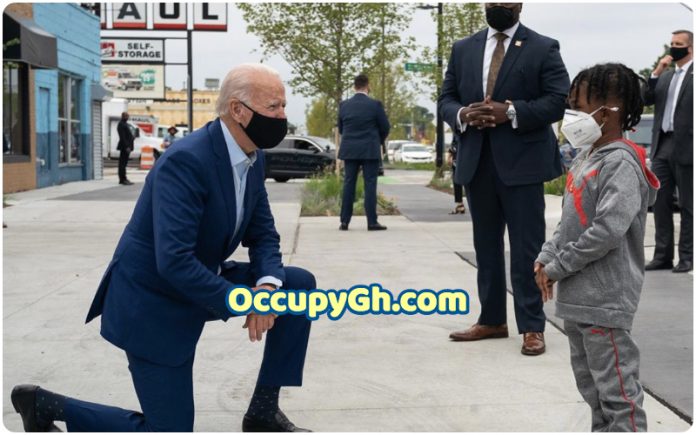 US Presidential Candidate Joe Biden Kneels Before 'Don Little' In Viral Photo
A viral photo sighted online by Lifestyle.ng captures the exact moment US Democratic presidential nominee Joe Biden kneels right before someone who looks so much like Ghanaian actor Don Little.
The photo apparently shared by US Presidential nominee Joe Biden has attracted a lot of attention from Ghanaians abroad and in the country.
Many have wondered if that's indeed Don Little going places. This is because the sensational actor was stuck in the USA over a few months back amid the outbreak of COVID-19.
Sharing the photo, Joe Biden captioned his post:
"Our children are a constant reminder of why I'm in this fight.
We need to build an economy that gives them and their families a fair shot.
We need to root out systemic racism so they grow up in a more just nation than we have now.
We need to combat climate change so there's a world left for them to thrive in.
I believe in a better future for our children and will fight for them until the very end."
Check out the photo below or visit Lifestyle.ng for more stories.
Source: Lifestyle.ng