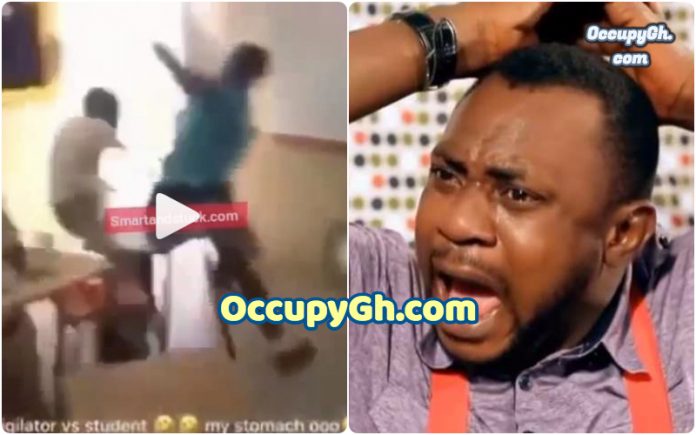 VIDEO: SHS Student Fights Invigilator In Viral Video
A viral video that has just surfaced online captures a Senior High school student in a serious fight with his invigilator.
According to details of the viral video, the student started the fierce fight with the invigilator.
However, taking a critical look at the fight, one can see a little boy in a uniform who is engaged in a serious fight with a man in a green t-shirt and a pair of trousers.
The very serious fight was captured by a student.
The fight according to the video, can be seen in a classroom and we may not be far from the truth that the fight might be as a result of the teacher penalizing the student during Exams Time which the student resisted.
However, where the fight took place is not known at the time of filing the report.
We are still in talks with the management of the Ghana Education Service to find more information about the video which is spreading on social media like wildfire.
Check out the video below or visit Lifestyle.ng for more videos & Kindly Subscribe to our Youtube Channel to see more viral, educative & exclusive videos.
a