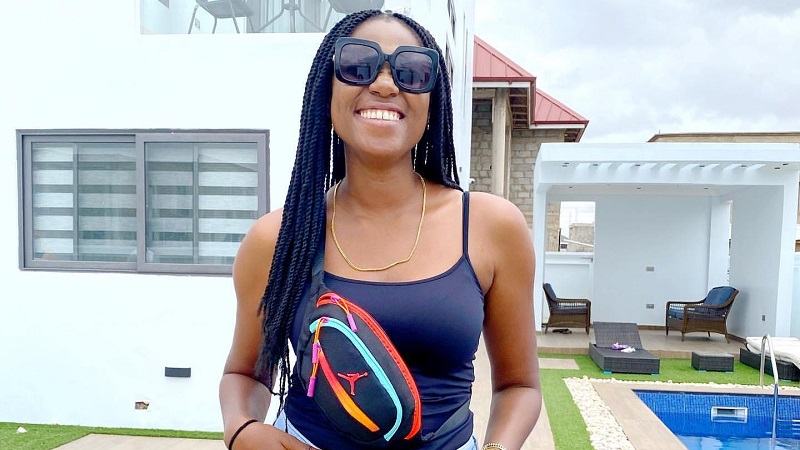 Yvonne Nelson is no stranger to showing off her legs. She does it in short pants, mini skirt, and little dresses but over the weekend, the Ghanaian superstar embraced the no-pants trend to flaunt her legs. 
The actress wore her hair in bouncing curls and created a laidback look by wearing a tiny stripe shirt as a dress. She did not wear pants. After all, it was a place she calls her island. She topped up the look with a pair of sunglasses.
Posing for the photograph, Nelson looked every inch a fashion model, especially as she showcased her toned, slender legs with a beaming smile. Fans were quick to drop comments with some of them cherishing the beautiful work of God. 
However, it seems like the mother-of-one has been busy with school studies, perhaps for her higher degree. A few days ago, she shared a story with her 'Gram followers about how she was questioned when one of her fans saw her in school.
"In 2020…..," Nelson captioned a photo of herself in school. "Was climbing up the stairs to my class when someone stopped me, yyyyvoooone??? She shouted, she was obviously surprised to see me there, i answered about 10 questions in a minute, this particular question i cant forget….WHY ARE YOU BACK IN SCHOOL? She asked……………to be continued."
In 2020, Nelson reminisced on her high school days, regretting why she was not taking her studies seriously. She further expressed the challenges she faced running in-between movie sets and attending school at the same time.
"I would go on stage every Saturday in SHS." Nelson told JoyFm during an interview. "I had to rewrite some papers. I was so into entertainment that I didn't take my schooling serious. You can easily mess up and not make it to university. I regret not paying attention to my books so when I see kids of today, I tell them to pay attention to their books."
She continued, "I was in Central University. And it wasn't easy mixing sets with classes. I had to make up my mind. It was tough. Nigerian producers were giving me juicy offers and I was torn between accepting the offers or not. But, I had to focus on school and I was so happy to have graduated, I didn't want to defer."
a